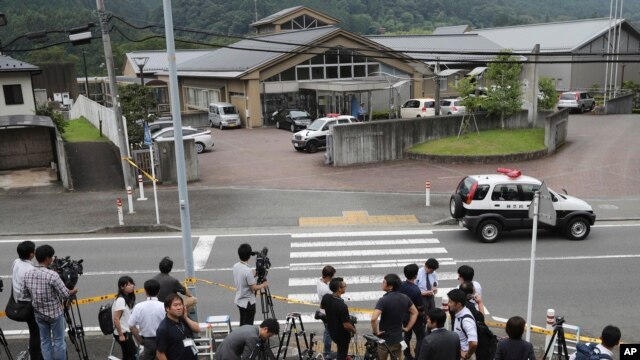 At least 19 people are dead after a man went on a knife-wielding rampage at a facility for disabled adults outside Tokyo Tuesday, making it Japan's worst mass killing in the post-World War II era.
Authorities in the city of Sagamihara, located about 50 kilometers west of Tokyo, say 26-year-old Satoshi Uematsu broke into a first floor window of the facility in the pre-dawn hours and began stabbing people. Uematsu later turned himself into the police and admitted to carrying out the attack. Several knives were found in his car, at least one of them stained with blood. News reports say he was angry about being fired from his job at the facility.
At least 20 others were wounded in the attack.
Mass killings are rare in Japan, which has some of the world's strictest gun-control laws, and typically involve stabbings. Eight children were stabbed to death at their school in the city of Osaka in 2001, while seven people were killed in Tokyo's electronics Akihabara district in 2008 when a man drove a truck into a crowd of shopper and stabbed passers-by.
"This is a very tragic and shocking incident where many innocent people became victims. I sincerely pray for peace for the souls of those killed and extend condolences to the bereaved families as well as those wounded. Police are currently investigating this incident to grasp the whole picture," said Japanese Chief Cabinet Secretary Yoshihide Suga.